Posted on June 11, 2020 by alexander oppenheimer in Sports
By: Alexander Oppenheimer, Crimson Chronicle Reporter
Hollywood High school experienced an undermining season with a record of 3-8, change was needed. Leighton Milton, the new Hollywood High football coach is a teacher at the school for multiple different subjects. Milton has exceptional football experience; as an alumni of the great D1 school Arizona State University football team, he has great experience and knowledge of the game. Milton was questioned about the upcoming season, when asked how he is feeling about the upcoming season,
"Before this madness began, I was just hired to be head coach and began interviewing potential assistant coaches. We did hire a coach who was recently at Bernstein HS, Coach Daniel Hill. We scrambled to get the equipment ready and had to contact other schools to set up our season schedule. Other schools had their schedules completed months ahead of us. Ms. Phipps and I have been cleaning and organizing the weight room and I've been scrambling to create a weightlifting program. So now with this virus, I'm worried that our season will be affected as it has shut down our spring training" He stated. When asked about what the plans for the upcoming season are he said
"I feel like we are starting over again and we've been thrown into a new league where there is no JV football, which I think is vital in establishing a football program. For now, it's just setting up the program and playing smart and tough football this fall." This is also not Milton's first time coaching a high school football team,
"No, football has been a part of my life since 10th grade. After attending and playing 2 years at Pasadena City College I earned a student/athletic scholarship to the university of Arizona. We went to three Bowl games including the Fiesta Bowl in 1994 against the Miami Hurricanes where Dwanye "The Rock" Johnson and his teammates were soundly defeated by my team (29-0). The ring I always wear is my PAC-10 Championship ring marking this occasion. From there I played a few years of semi-pro football and rugby. I had the opportunity to try out for the Dallas Cowboys but didn't make the team. I've coached football at various high schools in Pasadena and LAUSD and I coached basketball at Lincoln HS. But this is my first time being a Head Coach of a football team. I'm thankful that I've had great coaches in my past who have influenced me: Coach Coldiron and Coach Gossard at PCC and Coach Tomey, Coach McDuff, and especially for to Coach Brooks who came to my Dad's house and offered me the Student/Athletic scholarship to the University of Arizona." He stated. Lastly, to describe him as a coach,
"I like being prepared. The Army ROTC program at the University of Arizona helped me learn what leadership is and how to manage people working with you. I don't like screaming and yelling. I know some players and coaches spend a lot of time doing that. This is an emotional game and we are all human, so there might be moments of loud enthusiasm or frustration from me. I'm more or a Defensive player so I think from that perspective."
Everyone looks forward to the new and upcoming football team and season at Hollywood high school.
Posted on June 11, 2020 by alexander oppenheimer in News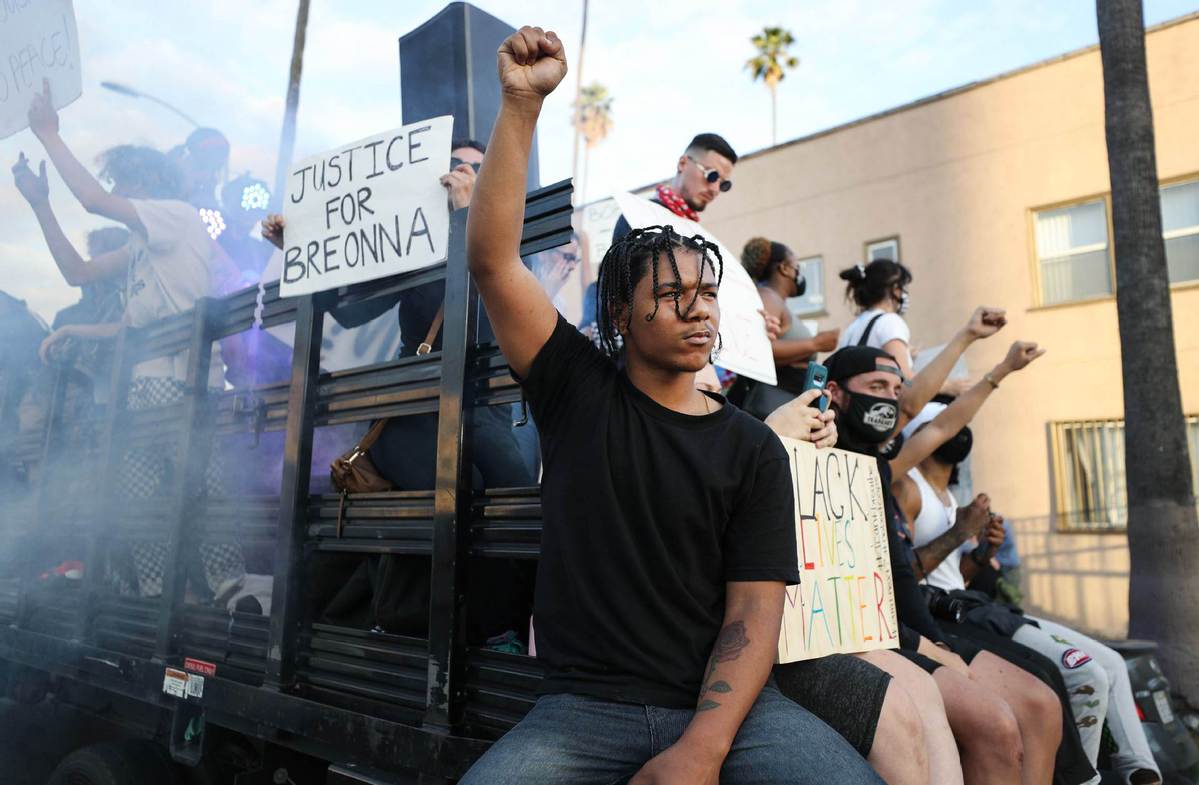 By: Alexander Oppenheimer, Crimson Chronicle Reporter
This past week there have been riots and protests all across the country but recently there were protests in our schools neighborhood right on Hollywood Blvd and around our school on sunset as well. Luckily, all of these protests were peaceful and no rioting or looting began. There were police watchers on top of buildings and hundreds of police officers in the streets to keep the protesters calm. For those who may not know, on May 25th, 2020 an unarmed black man was killed by Derek Chauvin, a police officer in Minneapolis. After years of having unarmed black Americans being killed by police officers and no one getting any justice or very little justice, the community has had it and felt it was time to really speak up and get their voices noticed. These peaceful protests have gone south in some instances though. Looting and rioting has broken out at some protests and many people have mixed feelings about this but it is getting the media's attention and bringing attention to the main issue of black oppression in corrupt police forces.
Photo credit: ChinaDaily.com
Posted on February 5, 2020 by alexander oppenheimer in News
Alexander Oppenheimer
Chronicle Reporter
During the first two weeks of February, Alyssa Pinedo, college counselor is going around the school speaking to the class of 2021 about preparing for college and what they need to expect when applying to schools.
She also spoke about the SAT and ACT tests and how to prepare for them so we would be ready.
Pinedo said she did it to "Mainly to touch base with the 21's and how to prepare and also prepare mentally. Also I needed to go over SAT school day on March 4th.¨
Overall, her speaking to the class was really great and the information was much needed.
Posted on December 13, 2019 by alexander oppenheimer in Features
Alexander Oppenheimer
Chronicle Reporter
With the first semester of Hollywood High School coming to an end in the next 7 days, students have a lot to look forward to in the new semester. Getting a fresh start for students who may not be happy with their current grades in their classes, or students who just want a break and have some free time during break. Then there are the seniors who have the stress lifted off their shoulders with finishing the ominous "senior project". For all the students of Hollywood get excited for the new semester and new year where everything seems to be changing, the decade, you can change your habits, your choices, make this upcoming year one of the best.
Posted on October 1, 2019 by alexander oppenheimer in News
Alexander Oppenheimer
Chronicle Reporter
The 2019 fall play will be the famous Shakespeare play "Macbeth" directed by John Tourtellotte, who promises a "scary good time." The opening night is Oct. 3 and the play runs Oct. 4-6.
The plot is that Lord Macbeth is a great warrior and general who is helping put down a rebellion against the king. On the way back from the battle he encounters some witches who tell him he will be king one day. Either he can wait or he can kill his way to the crown. After deciding to take action, the guilt of committing this murder breaks Lord and Lady Macbeth from the inside.
Tickets start at $3 for students and family members if one buys them presale. The first three nights will be shown at 7pm and on Sunday the play will show at 2 p.m.
The play is not scheduled to be during school hours but Tourtelotte says that he wants to talk to administration about allowing students to get a free preview of the play.
 Lord Macbeth is played by Sullivan Brock, and Lady Macbeth is played by Randella Drew. Banquo, Macbeth's best friend, is played by junior Milo Koyfman.
Within the acting community there is a superstition about this mysterious play. One of the beliefs is that during the play the prop knife that is used has been switched with a real knife which causes the actors to accidentally stab the other. The other side of the superstition is just that it is a fun thing to joke about with the other actors and actresses.