Posted on May 15, 2018 by Jacob Hu in Sports
Jacob Hu
Chronicle Reporter
The 2018 NBA Draft Lottery is finally here, many fans of the NBA have been waiting for this day to find out whether their team will obtain a high or low draft pick. This years draft has tremendous potential coming from the top prospects such as Deandre Ayton, Luka Doncic, Mohamed Bamba, and Michael Porter Jr. Teams that were anticipated to get the top three picks were the Phoenix Suns, Sacramento Kings, and the Atlantic Hawks.
A Hollywood High School student, Alex Baljian said,"I've been waiting for this day for a while now. The Los Angeles Clippers finally have two first round picks and the last time we had a draft pick was back in 2011. Hopefully the Clippers can get the 12th and 13th pick in the NBA Draft Lottery."
Here is the outcome of the 2018 NBA Draft Lottery: Top 15 picks
1.Suns
2.Kings
3.Hawks
4.Grizzlies
5.Mavericks
6.Magic
7.Bulls
8.Cavs (from Nets)
9.Knicks
10.76ers (from Lakers)
11.Hornets
12.Clippers (from Pistons)
13.Clippers
14.Nuggets
15.Wizards
Posted on February 27, 2018 by Jacob Hu in Announcements, News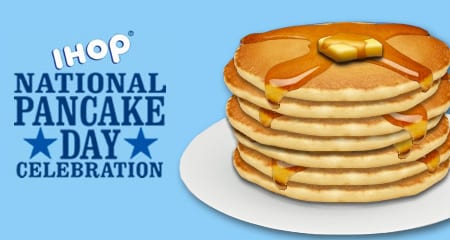 Jacob Hu
Chronicle Reporter
Today is national pancake day which means that IHOP is giving away a short stack of buttermilk pancakes to anyone who donates one dollar or more which will go to children's charities. This offer will only last for today by 7 a.m. to 7 p.m. pacific time zone. For every stack of buttermilk pancakes IHOP serves, they get closer to reaching their goal of raising $5 million for local children's hospitals and health organizations. IHOP started National Pancake Day on 2006 and their franchisees have raised almost $30 million for children's hospitals, health and educational organizations.
This is a great way of fundraising for people in need of education and health because everyone gets satisfied by the end. For example, the customers from IHOP get a short stack of buttermilk pancakes for donating a dollar or more to children's charities and the children in need of education and health get a better percent of recieving that help from those organizations.
Posted on January 23, 2018 by Jacob Hu in News
Jacob Hu
Chronicle Reporter
There has been an increase of homelessness in Los Angeles. Thousands of volunteers are taking action by coming out across Los Angeles to count the number of people living on the streets. To get a certain percentage of people who live on the streets, there is a survey which volunteers can take called the Greater Los Angeles Homeless Count. The Greater Los Angeles Homeless Count is part of a survey performed every year since 2005 as part of a national census, with the data reported to the federal government for funding purposes.
There has been reports that nearly 8,000 volunteers are going out over a three day period to try to count the number of homeless people in LA County's nearly 4,000 square miles. More people should take this survey to get a better feedback on the percentage of homeless people living on the streets. Homelessness has become an epidemic throughout Los Angeles and it must be detained so that more people can walk outside with more satisfaction.
Posted on November 14, 2017 by Jacob Hu in News
Jacob Hu
Chronicle Reporter
Today is national pickle day which means that every pickle you buy will be 22% off. National pickle day has been celebrated for more than 70 years, every November 14 and this year is no different. Four Lakes Processing Collective, Madison's premier pickler of local produce, encourages all people living in Dane County to enjoy some pickles. FLPC is organized by Healthy Food For All of Dane County, as a way to support food recovery and waste reduction.
FLPC has pickled hundreds of pounds of local cucumbers, zucchini, beans and other produce within the past couple of months since its launch this summer.
"Americans eat more than five million pounds of pickles every year and the range of pickled products we're free to enjoy continues to grow," Joe Mingle, a FLPC organizer, said.
Happy National Pickle Day!
Posted on October 24, 2017 by Jacob Hu in Sports
Jacob Hu
Chronicle Reporter
The 113th World Series, which starts here on Tuesday between the Los Angeles Dodgers (104-58) and the Houston Astros (101-61), will be the first matchup of 100-victory teams in nearly 50 years. The last such meeting, between Baltimore and Cincinnati in 1970, resulted in an emphatic five-game triumph for the Orioles.
Yes, for the first time in nearly three decades, the Dodgers are going to the World Series. They beat last year's champions, the Cubs, in a dominating 11–1 performance that exemplified what makes this group so dangerous, and they did it behind a three-home-run performance from a young man who won much more than a baseball game Thursday night.
Now the Los Angeles Dodgers are facing up against the Houston Astros on Tuesday at home for the Dodgers. Kershaw, who will start Game 1 against another top left-hander, Dallas Keuchel, went 18-4 and led the National League in earned run average for the fifth time, with a 2.31 mark. He reached 200 strikeouts for the seventh time, and despite middling postseason numbers over all (6-7, 4.40 E.R.A.), the Dodgers have now won eight of his last nine playoff appearances. Hopefully the Dodgers can win this time in the World Series or it will be a devastating loss because it took the Dodgers twenty-eight-years to get to the World Series.
Posted on October 3, 2017 by Jacob Hu in News
Jacob Hu
Chronicle Reporter
"The AP Readiness Program is designed with two interconnected goals in mind. The program aims to improve the teaching abilities of AP instructors while simultaneously giving students the skills they will need to be successful in college level classes. AP Readiness allows students to work with master instructors, who prepare them for the rigorous curriculum that they will face in AP courses. Concurrently, their AP teachers observe and learn from the master instructors, gathering a framework for how to successfully conduct an AP course."
This unique program allows for students and teachers to learn together. Both teachers and students also become an essential part of a network of AP support and excellence. The AP Readiness Program is a great program that will benefit the student's future so that they will have the knowledge later on for college level classes. This program is hosted in UCLA and there are two parts of the program which are the AP Readiness STEM and the AP Readiness HUMANITIES. The AP Readiness STEM hosts Math, Science and Computer Science. Specific dates for STEM are September 9, October 7, November 4, December 2, 2017, January 20, February 10 , March 10 and April 21, 2018. The AP Readiness HUMANITIES hosts English, Social Studies and Spanish. Specific dates for HUMANITIES are September 30, October 28, November 18, 2017, January 13, February 3 , March 3, April 7 and April 28, 2018. Anyone can join the AP Readiness Program and there is nothing wrong with joining because the only thing you get out of it will be important imformation.